NATIONAL DAIRY PLAN PHASE 1 (NDP – 1)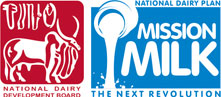 Majority of village based milk producers are small & marginal farmers and land less labourers. Some 70 million rural holds are engaged in milk production. Village based milk co-operatives ensure inclusiveness and livelihoods especially for women.
NDDB with the inclusiveness of the World Bank in collaboration with the Government of India initiated a programme, NATIONAL DAIRY PLAN PHASE 1 to help increase productivity of milk animals through scientific breeding & nutrition.
Under the programme to fulfil the main objectives, different sub-programmers are considered by NDDB and those are as under:
Village based milk procurement system.
Pedigree selection programme.
Strengthening of semen stations.
Progeny testing programme.
Fodder development programme.
Ration balancing programme.
Currently Rajkot Milk Union is implementing the Village based milk procurement system to strengthen new grass root level infrastructures that is to organize new village based societies, predominantly women societies & socially backward communities. Till Now, Rajkot Milk Union has organized 33 Dairy co-operative societies (31 women societies & 2 General)
In addition, under this programme Rajkot Milk Union has to establish 33 Bulk milk coolers of different capacities in already functioning dairy co-operative societies depending on the availability of milk, space & other infrastructures. 5 BMCs (4 of 3KL & 1 of 2KL) are in operation, another 5 BMCs are under installation (2 of 3KL & 3 of 2KL) & for 7 BMCs civil work in progress. For the remaining BMCs, site selection is in progress. Besides this programme, Rajkot Milk Union is considering to implement other programmes for the enhancement of milk production by scientific method.