Organisation Profile
Rajkot Milk Union (RMU), Gujarat, India is a member union of the Gujarat Co-operative Milk Marketing Federation (GCMMF) Ltd, better known as AMUL(Anand Milk Union Ltd), With Six Milk Chilling Centres(MCC ) / Milk Cooling Units(MCU), 90 Bulk Milk Cooling Units( BMCU) besides one dairy plant at Rajkot of 6.00 LLPD. It is a vibrant organization that serves consumers not only of Rajkot but also rural areas of Rajkot. Apart from other districts of Gujarat, its consumer is spread in other states of India as well that is backed by the products of global standards under AMUL brand.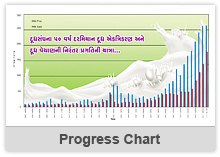 RMU has been a partner in AMUL's growth for over five decades and has built a very special relationship of trust and commitment with the people of Gujarat. The organization continuously focuses its efforts to better understand the changing lifestyles of India and anticipate consumer needs in order to provide convenience, nutrition and wellness through its product offerings. The culture of innovation and renovation within the Cooperative and access to the AMUL Group's proprietary technology/brands, expertise and the extensive centralized research and development facilities gives it a distinct advantage in these efforts.
In addition to the market status, RMU is committed to long term sustainable growth and shareholder satisfaction. The organization insists on honesty, integrity and fairness in all aspects of its business and expects the same in its relationships. This has earned its due trust and respect that it owes in the society concerned and hence is acknowledged as amongst Saurashtra's most respected Cooperatives and celebrates its position amongst the Top five marketers of Gujarat, India.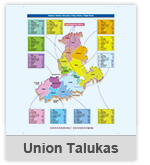 The organization is wide spread and procures milk mainly from 14 Talukas with 834 functional Dairy Cooperative Societies (DCS) including 444 Women DCS and also few DCSs of four other districts namely, Junagadh ,Amreli ,Porbander and Jamnagar. The milk is procured from the small / marginal / landless producers from these Talukas and is sent to their nearest chilling centers. RMU has 6 chilling units at Wankaner, Jamkandorna, Lajai, Vichhia, Kalawad & Majevadi besides one composite dairy plant at Rajkot. Future plans are proposed for the expansion of the existing units and setting up new world class plant thereby increasing the milk procurement, processing capacity and to give a consistent supply of liquid milk to consumers.
RMU manufactures products of truly International quality under brand names AMUL and Gopal comprising of milk and various other milk products like Ghee, Butter, Butter Milk, Flavoured Milk, and Peda, It is also planning to add to its product portfolio by extending its infrastructure to manufacture Probiotic Dahi, Probiotic Lassi, Probiotic Butter Milk, Ice Cream and Paneer.
Organization Profile
1
Registration Details
KHEY - 60 / 05/09/1961
2
Area of operation
Mainly Rajkot District
3
No. of revenue villages of Rajkot
592
Present status (2018-19)
1
Total milk production (TKgPD)
1172
2
Marketable surplus (TKgPD)
762
3
Average Milk procurement (TKgPD)
452
4

| | |
| --- | --- |
| Installed capacities: | |
| - Milk Processing (TLPD) | 600 |
| - Chilling Centres (TLPD) | 355 |
| - Peda (MTPD) | 0.5 |
| - Ghee (MTPD) | 5 |
| -Dahi (MTPD) | 8 |
| -Lassi (LPD) | 4000 |
| - Bulk cooling units / MCC | 355 |
| - DCS based Bulk cooling units | 237 |

2008-09
2018-19
5
Liquid Milk Demand Potential (LLPD)
3.50
6.50
6
Liquid Milk Sale (LLPD)
1.14
3.22
7
Net profit/Loss (Rs.in Lakhs)
109.19
651.66
8
Profit/Loss before depreciation (Rs.in Lakhs)
112.66
1472.71
9
Accumulated Depreciation (Rs.in Lakhs)
453.76
5558.65
10
Over dues (if any) (Rs. in Lakhs) NDDB /Others
0.00
0.00
Composition of the Board
Whether Board is elected
Yes
Total No. of members
19
Non Officials - Elected members
15
Official Nominees
Govt.
1 (District Registrar)
State Federation - GCMMF Ltd
1
National Dairy Development Board(NDDB)
1
Dist. Co-op. Bank
1
General Manager
1
CEO Details
Milk Union Employee
Equity Status (As on March 31, 2019)
Authorized Share capital
Rs.3000.00 Lakhs
Paid-up Share capital
--
Members
Rs.2537.06 Lakhs