Insurance / Scholarship / Tree Plantation Etc
In the principles of cooperative activities, social responsibility is of prime importance. The welfare activities for the farmers/ milk producers and their community are of diverse nature which are as under:
Scholarship for the education of farmers' son or daughter who are promising and good in studies. Scholarship is provided under "Aam Admi Bima Yojana" insurance schemes that operate jointly through LIC and Central Government support.
"Aam Admi Bima Yojana" and the group insurance schemes are being implemented for the last eight years with the help of LIC of India to provide social security to the members of DCS.
"Aam Admi Bima Yojana" Group Insurance Scheme
"Aam Admi Bima Yojana" & the Group Insurance Schemes are being implemented for the last 15 years with the help of Life Insurance Corporation of India to provide social security to the members of the Dairy Cooperatives.
Rajkot Milk Union paid Rs.14 lakh as an assistance to pay premium for insuring 25429 milk producers of 271 DCSs in 2015-16. In case of natural or accidental death of the insured person, total claims of Rs.44.51 lakh is paid to the nominee of the deceased under Janshree & Group Insurance Schemes.
Scholarship Schemes
This scheme is being implemented as a part of Janshree Insurance Programme that operates jointly through Life Insurance Corporation & Central Government to support & encourage education of the beneficiaries children. Three housand one hundred nine (3173) children of members from 199 milk cooperatives received scholarships worth Rs.38.08 lakhs during 2015-16.
Tree Plantation Etc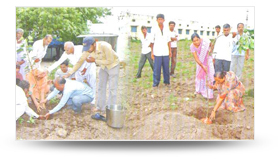 Every human being is bound to give his/her share in preserving our mother earth for the betterment of society and environment. And as bigger organization, we understand the necessity to contribute and act upon it. Following the responsibility, we have started preserving nature through Tree plantation and securing the future of the members of the cooperative society and their families as well through Insurance and Scholarship programs.
Collective Tree Plantation Programme
Trees are, in other words protectors of Earth but with time the industrial revolution and explosion have led to global warming due to surplus quantity of carbon emissions and have reduced the trees count on Earth considerably. Considering seriousness of the matter, GCMMF & Rajkot Milk Union, have initiated collective Tree Plantation Programme from the last 5 years involving milk producers. Encouraged by the success of this campaign, in the year 2015-16,53000 saplings were planted by 9,000 milk producers of 43 dairy cooperatives.
VIRNAGAR Milk Producers Co-operative Society Ltd. planted one lakh saplings in Virnagar during 2010-11, setting a unique example of being the first village in India of planting so many saplings together. It should be a good lesson and inspiration to other Dairy Cooperatives to take interest in planting saplings which will bring Green Revolution in Rajkot District. All of VIRNAGAR Dairy Cooperative Society's workers, milk producers/farmers, staff members & officers of the union were associated in this programme and made it a grand success.

View Tree Plantation certificate
SANITATION
Rural sanitation is a grey area and the more you do, the impact turns to be insufficient. It was initiated under " UNICEFS " Rural Sanitary Programme with the N.D.D.B.Rajkot Milk Union took initiative to construct SULABH shauchalaya schemes as eye opener to the milk producers and dairy cooperative societies.
RED Tag Day (Complete Cleanliness Day)
Every year, Red Tag Day is celebrated with the objective of practicing and preaching complete cleanliness. All cooperative owned society buildings observe complete cleanliness. In the year 2010-11, nineteen (19) milk cooperatives participated in this scheme & the union gave financial assistance of Rs.31,000.00 to the participating cooperatives. It is planned to be held in the next year as well. To support this idea of farmers, the union has decided to pay Rs.2500.00 for the society buildings owned by the cooperatives & Rs.1000.00 for rented society buildings.
Employee Education in Cooperative
Success in Cooperative activities depends partly on education in cooperation. Our milk union granted a scholarship of Rs.13,125.00 to 8 secretaries of Dairy Cooperatives for pursuing "Diploma in Cooperative Management". Twenty six(26) women members from 11 Dairy Cooperatives were also sent to Anand Agricultural University, Anand for training programme in Animal Husbandry for 7 days.