Brand & Collaboration
Brand collaboration is an effective way to surprise your customers and to attract new ones.Brand partnerships not only refresh the brand's image but introduce new features / characteristics of the brand and its products/services .Such partnerships can be profitable for both participating brands.
Friendships between brands with larger consumer base and emotional bondage on one part while known brand equity on the other part allow to conglomerate to enter new markets, to reach new targets, to change perceptions or develop their image. And in fact, it's a real win-win business trend but only when the collaboration is smartly chosen which Rajkot Dairy has proved within very shorter span of time.
In the year 1988, the Rajkot Milk Union acquired the membership of GCMMF Ltd, better known as AMUL ,an apex organisation of the Dairy Cooperatives of Gujarat, popularly known as 'AMUL', which aims to provide remunerative returns to the farmers and also serve the interest of consumers by providing quality products which are good value for money.Gujarat Cooperative Milk Marketing Federation Ltd. (GCMMF), is India's largest food product marketing organisation with annual turnover (2010-11) US$ 2.2 billion. Its daily milk procurement is approx 12 million lit (peak period) per day from 15,712 village milk cooperative societies, 17 member unions covering 24 districts, and 3 million milk producer members
Rajkot Milk Union has been a partner in AMUL's growth for over five decades and has built a very special relationship of trust and commitment with the people of Gujarat. The Company continuously focuses its efforts to better understand the changing lifestyles of India and anticipate consumer needs in order to provide convenience, nutrition and wellness through its product offerings. The culture of innovation and renovation within the Cooperative and access to the AMUL Group's proprietary technology/brands, expertise and the extensive centralized Research and Development facilities gives it a distinct advantage in these efforts.
Rajkot Dairy had started packing milk under brand " AMUL" besides its own reputed brand "GOPAL'' since 1999.But in the year 2006 under Brand Consolidation strategy it had uninomously decided to pack its liquid milk in one and only brand
Gopal
Gopal is one of the brand names of Rajkot Union and variety of milk products are served to end number of customers both local and out states under this brand name. The quality of milk and retention value of milk is supreme and thus the milk products are also of supreme quality.
Milk Products

Gopal Peda
Gopal Ghee
Gopal Dahi
Gopal Mango Dahi
Gopal Lassi
Gopal Butter Milk
Variety of Indian dishes and multi continental dishes can be cooked that adds value to the dishes cooked.
The taste of Gopal milk products has always been maintained and thus has earned satisfied consumers in these long years.
Amul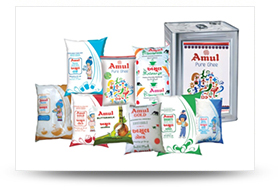 Amul is one of the well known brand names in milk and milk products. As against the fame of the brand name, Amul milk tastes best as well and has strong nutiritional values. It is server to end consumers of India and abroad as well and has been consistent in retaining the market value since many years.
The quality and value of milk is supreme and thus the milk products are also of the supreme quality. The Nutrients of the milk speaks in itself as the quality of procured milk from DCS of Rajkot District and of other neighbouring districts of Gujarat is checked for stringent standards by modern technical equipments. Adulteration practice, which is the first foe of milk, is taken care of to the practice in the nub itself.
Amul milk and milk products cover a variety of wide range of products with various consumer friendly and bulk packets as well.