Gopal
Gopal is one of the brand names of Rajkot Union and variety of milk products are served to end number of customers both local and out states under this brand name. The quality of milk and retention value of milk is supreme and thus the milk products are also of supreme quality.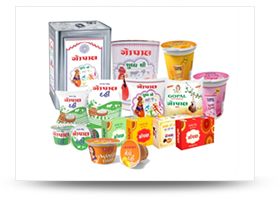 Milk Products
Gopal Peda
Gopal Ghee
Gopal Butter Milk
Variety of Indian dishes and multi continental dishes can be cooked that adds value to the dishes cooked.
The taste of Gopal milk products has always been maintained and thus has earned satisfied consumers in these long years.